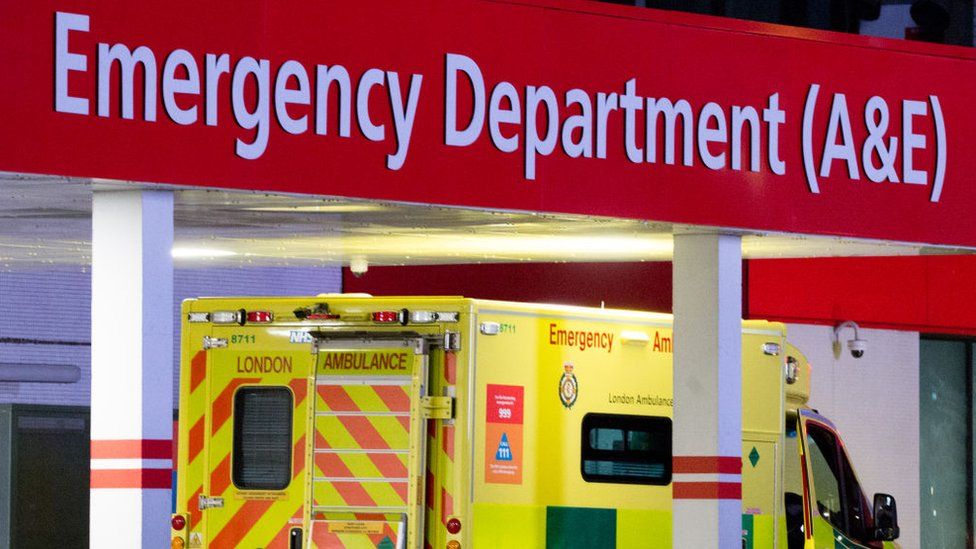 Patients needing ambulances for life-threatening calls are often waiting longer than they should, latest NHS England figures show.
The average response time was around eight and a half minutes in August – the target for urgent calls is seven minutes.
Data also reveals the number waiting for routine operations rose to a record high of 5.6 million in July.
The NHS in England is set to receive an extra £5.4bn over the next six months.
The money has been allocated to help the health service respond to Covid-19, and to tackle the backlog caused by the pandemic.
NHS England figures show that waiting times for ambulances were slightly shorter, on average, in August than in July. But that is still more than one minute longer than the target of reaching the most urgent calls within seven minutes.
These are for people who are struggling to breathe or have had a cardiac arrest.
The average response time for an ambulance that can take a patient to hospital – rather than a paramedic coming by bike or car – for this category in August was close to the worst on record – 11 minutes 10 seconds.
And for category 2 calls – which cover heart attacks, seizures and road traffic accidents – the average wait was more than 38 minutes.
The figure of 5.6 million people waiting to start routine NHS hospital treatment is the highest since records began in August 2007, and up from 5.45m in July.
Nearly 1.8 million have been waiting longer than 18 weeks, while more than 293,000 have been waiting for more than a year.
That number has fallen – a sign of efforts to tackle the backlog caused by Covid.
NHS England said staff had contended with one of the busiest summers on record in A&E, and hospitals had now treated up to half a million patients with coronavirus.
Prof Stephen Powis, national medical director for NHS England, said: "NHS staff have pulled out all the stops to deliver millions more tests, checks, treatments and operations than they did last summer despite caring for many more Covid patients.
"We do not know how many of those who held back from accessing care during the pandemic still need treatment, but we expect more to come forward in the coming months, and I urge anyone who needs the NHS to come forward," he said.